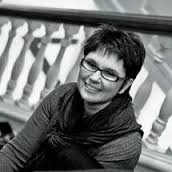 Andi Fisher grew up an Army brat and lived all over the world, including Latin America and Europe, so she's no stranger to adventure. But one destination in particular stole her heart during a family road trip in the summer of 1989: Paris.
"Despite having lived in Panama and Spain and having learned to speak Spanish all my life, I became forever enamored with all things French," she says.
The San Francisco resident has returned to France frequently; even moving there for a while and marrying a French man. Here the Francophile, foodie and blogger behind Misadventures with Andi offers travel advice (visiting doing Paris on a budget) and shares about her passion for food.
Enchante, Andi. What do you think are the three most important things readers should know about you?
That I love to eat, I am always thinking about food. That I love to travel, I am always thinking about where to go next. And that I am a nice person, I hate mean people.
When and why did you start Misadventures with Andi?
In 2008 I took a creative writing course in San Francisco and realized immediately that writing was a passion of mine. During the semester, I began writing my blog Misadventures with Andi. Why Misadventures with Andi? In 2003, I moved to Switzerland to work. This was the first time I lived in a foreign country without my parents. So of course there were mishaps, or misadventures, which I reported to all my friends and family in a weekly email called Misadventures with Andi. When I decided to start a blog, the name stuck.
Who should be reading your blog?
Travelers, particularly if they are interested in San Francisco and Paris (although I get around to a lots of places); foodies who enjoy lots of food talk and photos; and folks who like to get to know people who don't take themselves too seriously.
How did you come to be such a Francophile?
In 1989 my family was living in Madrid and decided to go on a summer road trip through Western Europe. We visited parts of Spain, Germany, Italy, Belgium and France. We were in Paris for the 200th anniversary of Bastille Day and spent a few days visiting the city. I immediately fell in love.
When you visit Paris, what spots do you love to visit over and over again?
I always, always walk the Seine. No matter what time or year, there is always something going on and something to see. I always have a hot chocolate at Angelina's and glass of champagne at La Coupole; two very touristy places, but I love them!
Here at HotelsCheap.org, we love to help save our readers money on travel. Any tips on visiting Paris on a budget?
Yes, here's a few:
Eat lunch rather than dinner at one of Paris's prestigious restaurants without breaking your budget. Many of them have nearly the same menu at lunch than dinner at far less the price.
Visit one of the daily farmers markets all over the city and pick-up amazingly fresh picnic supplies. Then head to one of the many parks and eat like a local.
Buy a Navigo pass to save on transportation or a City Pass to save on hundreds of places around the city.
Stop into a pharmacy and discover products you can't find anywhere else! From domestic cosmetics to candies, it is a treasure trove of local goodies.
You now live in San Francisco; where do you go to get your French fix when you're at home?
Well it helps to have a French husband! In reality it is very easy to get your French on in San Francisco. I wrote a whole post on how to do it. The entire San Francisco Bay Area has a lot of French influence; I am never too far from a French restaurant, bakery or theater with French films.
As a self-described foodie, where on your travels would you say you've had the most blog-worthy meals?
Hands down the Brittany region in France. I have done two separate two-week trips and have more magical food memories from those trips than anywhere else. It is a rainy region on the northwestern coast–lots of cows so the milk, butter, yogurt and cheese is amazing. Lots of apple trees to make great ciders and calvados. And amazing seafood like sardines, lobster and oysters. Foodie heaven!
What's your advice for finding affordable and delicious places to visit when you're on the road?
Research. There are so many great bloggers in the world discovering every corner of the world and writing about it. Use them as a guide. After that don't be afraid to just stumble over hidden gems.
What destination currently tops your bucket list?
I am not a big fan of bucket lists, there are just too many places in the world to visit to limit it to a list! But ever since seeing a show on Croatia I am keen on going there to check out their food scene. Sorry, my stomach guides a lot of my travel decisions!
Follow Andi on Facebook, Twitter, Google+, Pinterest and Instagram.